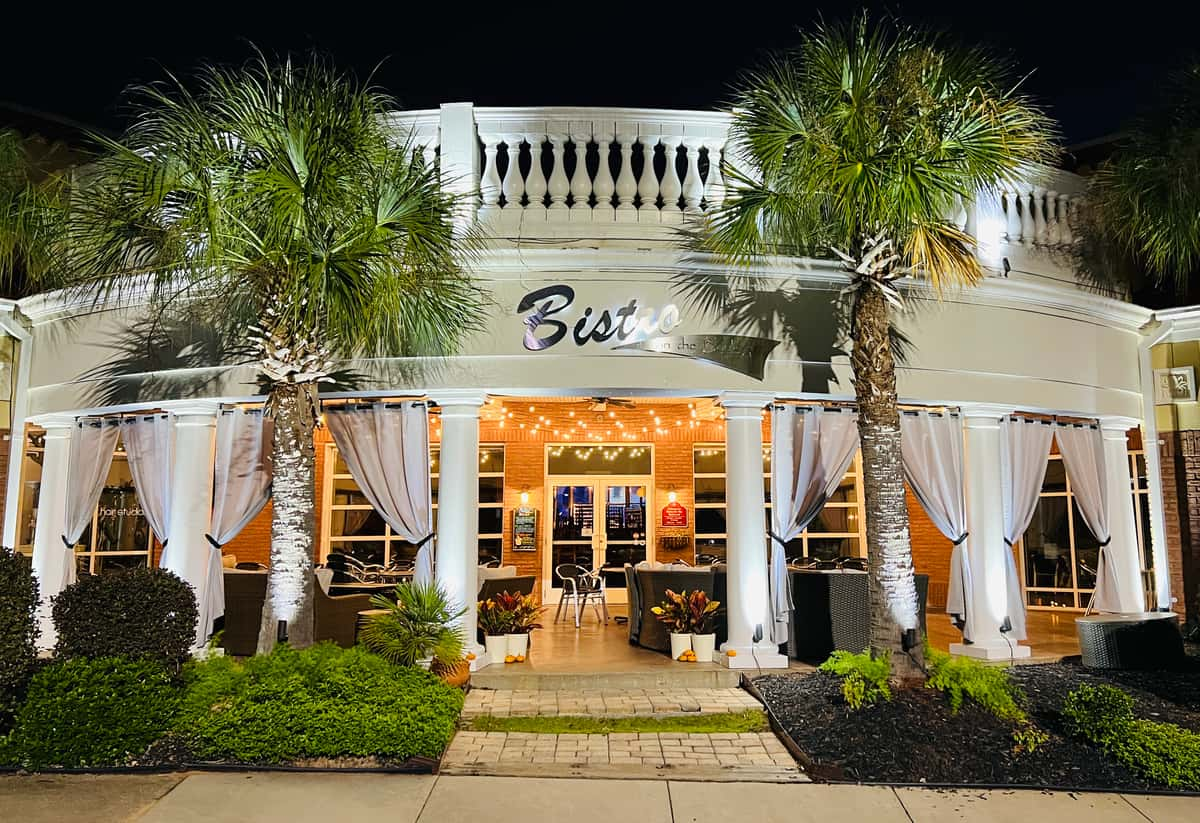 Testimonials
Here Are Some Things Our Guests Have To Say
This restaurant was recommended as a great place for great food and they most certainly delivered! I advise you to make reservations in advance but we got lucky when we had a walk in. We were seated quickly and had our waiter serve us drinks promptly. The atmosphere was small, quaint, and simple but it definitely made a great opening impression, that of what a bistro should be. We ordered a couple of drinks and they were good. Mixed well and flavored good. We started with some appetizers: the Bacon-Wrapped Shrimp and the Firecracker Shrimp. Both were cooked very well-seasoned great and the sauces on both went phenomenally with the shrimp. The list for appetizers and entrees isn't overwhelming (thank goodness) but it was still pretty difficult to settle on just one. By the time we finished we finished our appetizers our entrees were coming out, which was perfect timing because we were starving. They were still hot and steaming, and they smelled and looked great. We went with the Stuffed Pork Chop and Bayou Chicken Pasta and I will honestly say that that Pork Chop was A-MAZ-ING!! One of the best meals that I've ever had. Did I mention that the customer Service was great?! What really sealed the deal for me is when the Owner came up and asked us about our meal and evening. Normally I'm asked how was my meal after I'm presented with the check but he approached us when we were eating out entree with what felt like a genuine concern for how his establishment was being operated. Kudos and brownie points. Last but certainly not least, the desserts. We were borderline full from the appetizers and entrees but we decided to try some desserts anyways and it was a great decision. They were great. All in all the atmosphere and experience was a 4.5 out of 5, customer Service was a 5 out of 5, and the food was a 5 out of 5. I had one of the best dining experiences I have ever had at any restaurant and I most certainly will be returning. Until we meet again "Bistro on the Boulevard"
—Derrick C. 5 Stars on Yelp
We were traveling and found this great place on TripAdvisor. The wine selection was excellent. The seafood was fresh and prepared with excellent flavoring. Service was friendly and attentive. We definitely will return if we visit again.
—Paul P 5 Stars on TripAdvisor
Visited for the first time for dinner tonight. The food was cooked to perfection, the atmosphere was relaxed, and the service was great. The manager checked on us and made us feel so welcome. Keep doing what you are doing - it works!! I will return soon.
—fisherwoman2018 5 Stars on TripAdvisor
The food was great, the service was great. Nice to have an independent, quality restaurant in Irmo. You should go!
—Lyn R 5 Stars on Google
Love this place! Food is good, interesting menu choices and the live music is always good.
—Chris K 4 Stars on Google
Seared ahi tuna was delicious. Good wine selection. I had the $8 California Cab- good. Switched to old vine zin $9 excellent! I hope to get back before I leave.
—Jodie W 5 Stars on Facebook
Juicy pork chops! Stay for the chocolate cake.
—Ken Bank 5 Stars on Google
Cool laid back restaurant with outdoor seating and good food. Friendly owner. Will definitely check it out again for live music etc later on in the summer
—Taylor S 5 Stars on Facebook
Enjoy our dinner every Friday Night. Always a good time with great service.
—Christine Teal Horrell 5 Stars on Facebook
Great location great atmosphere and good food Service was great I had their shrimp and grits and I will give them a thumbs up
—Emmanuel A. 4 Stars on Yelp
Was an excellent dinner, steak was cooked perfectly. Will definitely go again.
—Wendie Piekarski 5 Stars on Google
Perfectly grilled steak served with 2 sides, collards and loaded baked potato. We had a party of six and everyone enjoyed their entree. We will be back.
—Merry C. 5 Stars on Yelp
Me and my wife recently discovered the Bistro on the Blvd to see a friend who was performing there. This place on occasion has live music. The food was very good and reasonably priced. The owner visited our table during our meal and was genuinely interested in our experience and wanted to make sure everything was to our liking. I would recommend that anyone living in the Irmo area looking for a place to dine with good atmosphere and live music give this place a try.
—Paul Claspill 5 Stars on Google
One of my favorite places. Relaxed live music Friday and Saturday. I am only half way through the menu, and every dish is delicious!
—Kris P 5 Stars on Yelp
We wound up here on a Friday night for dinner, and were very satisfied! There was live music (that wasn't too loud), and the atmosphere was very nice. Staff was very attentive (but not overly so where they keep bugging you) and friendly. I had potato crusted fish and it was delicious. After a year and a half in Columbia, I haven't been too impressed with the food, but this place was great! Definitely on my favorites list, and can't wait to come back.
—cbehnke 5 Stars on TripAdvisor
Great food and atmosphere! Trivia on Tuesdays, live music on Fridays.
—Sarah Berner 4 Stars on Google
Food was terrific. Owner very involved with service and quality. Fairly priced.
—Jeff Blair 4 Stars on Google
Drove from Augusta Ga to try the food for our anniversary. If you could test the IQ of the pistachio grouper it would be declared "brilliant "! Asparagus was perfectly cooked; keeping its firmness and flavor. The Mrs. enjoyed the ribeye and wasn't dissatisfied with any part of the experience. The waiter was alert and knowledgeable. Owner went to each table asking if all was Ok. Will tell all in Augusta about Irmo's finest! We will drive the 75 miles again and not bat an eye to eat at this fantastic eatery. See y'all soon.
—Joe D 5 Stars on Google
Great food and fun place to hang out.
—Trinity F 4 Stars on Google
Amazing and classy restaurant! I had a wonderful time for my birthday. Food was amazing, staff was super friendly and professional ⭐⭐⭐⭐⭐! My new favorite place.
—Kiara Cancer 5 Stars on Google
I don't normally venture outside downtown Columbia and the Congaree Vista, but this was an absolutely wonderful venture from my comfort zone. The food was fabulous and the service was beyond words. The locals clearly already know, but for those like me that stick to Forest Acres, Rosewood, and the Vista: Take the extra 15 minute drive and check out Bistro! I guarantee you will not be disappointed!
—KC Alexander 5 Stars on Facebook